Video Department Manager – Vista, CA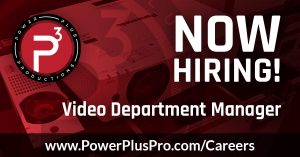 Role Description
The Video Department Manager reports directly to the Director of Operations. This position manages a team of 3 to 6 technicians to plan, prep and maintain the quality of video equipment delivered to shows around the country. Working closely with production management, other departments and other video engineers to ensure consistent quality for every project. Selected candidate will assist/engineer shows, as necessary.
Responsibilities
Assist in the selection and design of video equipment responding to the needs of our clients, based on budgetary guidelines and accepted technical standards
Assist with creating and updating video plots
Coordinate project requirements with other departments, clients, and venues, including equipment, rigging, power, labor and shipping schedules as required
Generate show specific equipment Pull Sheets within inventory control software (FLEX)
Work with Warehouse Manager and Technicians to ensure all equipment pulls, packaging and labeling are accurate and in accordance with the pull sheets
Unload, set up and tear down, load equipment for shows as needed
Direct video crews in show-site activities as required, maintaining workplace, project and site safety
Follow procedures pertaining to preventative equipment loss measures
Maintain and service equipment as necessary, providing service logs and schedules
Coordinate special projects, including research and recommendations for purchase of specialty video related items for show applications
Maintain sufficient equipment and supplies stock to ensure the on-going needs of the production
Maintain a safe, organized, clean, and neat warehouse environment
Provide training/tutoring for staff on your department's procedures, including equipment preparation, set-up, operation, removal, QC, troubleshooting and repair
Assume duties of co-workers throughout company as needed
Skill Requirements
Familiarity with video equipment
Computer literacy including basic networking
Math aptitude
Project management
Knowledge of warehouse operations
A strong attention to detail
Ability to work cooperatively with team members and other departments
Effective communication and problem-solving skills
Ability to multi-task and be proactive
Experience operating a forklift and materials handling equipment
Planning, organization, and problem solving
Physical Requirements
Must be able to lift, carry, move, and place up to 50 pounds as needed
Must be able to stand for extended periods of time
Assist with loading and unloading equipment into trucks
Work varied shifts, including weekends and holidays
Eligibility Requirements
High School Diploma or GED minimum, Bachelor's Degree preferred
Three plus (3+) years of experience in video production for live events, including hands-on experience with video switchers, processing, cameras, projection, screens and LED video walls
Proficient in using MS Office Suite (Word, Excel, and Power Point)
Have excellent communication and time management skills
Ability to read and interpret documents such as CAD drawings, safety rules, operating and maintenance instructions, and procedure manuals
Ability to work calmly under pressure in a fast-paced environment
Ability to work with limited supervision and maintain a respectful and positive work environment
Ability to operate scissor lift and forklift preferred
Must provide acceptable documents that establish both identity and employment authorization.
As a condition of employment, newly hired employees will be required to provide proof of their COVID-19 vaccination.
Travel Requirements
Up to 20%
Salary & Benefits
Starting at $60,000/yr – Full-Time
Paid vacation
Medical
Dental
Vision
Life insurance
401k program
Job Location
Openings available in:
Required Language
English