CREW Network 2022 Convention Case Study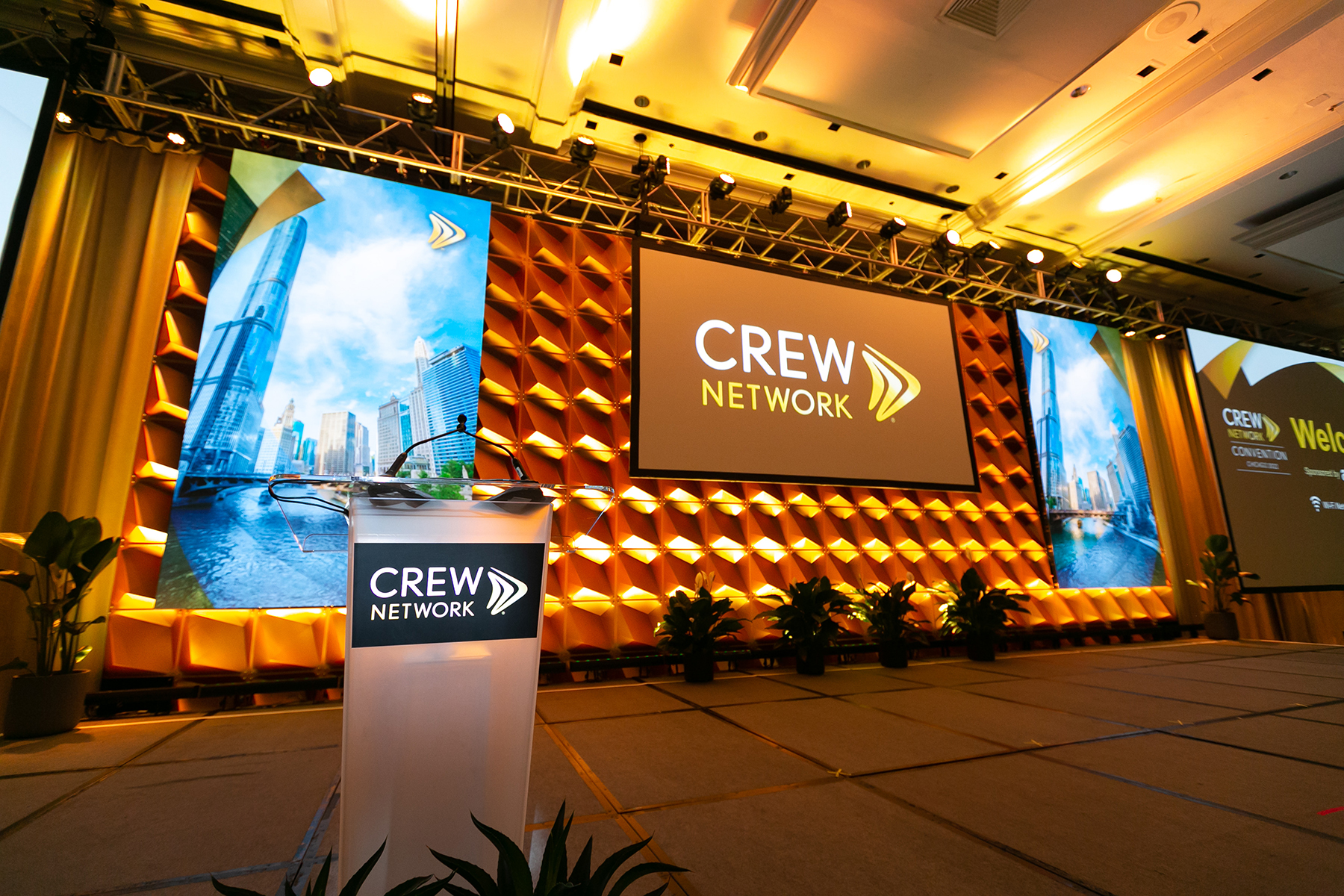 About CREW Network
CREW (Commercial Real Estate Women) Network was founded in 1989 to bring together women involved in the many aspects of commercial real estate to exchange information, develop business contacts and help each other succeed professionally. Today, CREW Network is the premier business network dedicated to transforming the commercial real estate industry by advancing women globally. CREW Network provides support to their 12,000 members worldwide through business networking, leadership development, industry research and career outreach.
Overview
CREW Network contacted us after previous engagements and told us they wanted to work with a full production house who could provide them with a set unlike anything they had ever done before. Their pre-production needs were just as critical as the execution of the show. They needed a team who would be able to create eye catching graphics, coach presenters prior to the show, and meet regularly to discuss various elements of the show. They needed a level of care from beginning to end, and Power Plus Productions was happy to deliver!
With one main General Session and several large scale Breakouts throughout the 3-day event, the Hilton Chicago served as the perfect location for this important convention.
Approach
Utilizing our two warehouses in San Diego and California, we were able to deliver all equipment for this event with our own trucking team. Power Plus Production's key department leads and Production Manager ran a setup crew who was able to get the entire General Session set in ample time. During the planning phase, we learned one key component to this event was the Opening Ceremony. Every year CREW Network brings in amazing talent to open the show with a powerful message. This year was no different. With a professionally trained opera singer and moving testimonials from the Network's leaders, we knew this element of the show needed to stand out. Our lighting team created an amazing experience as each leader shared their story, their journey.
We also learned during the planning phase that Closed Captioning was critical, as CREW Network greatly values inclusiveness. Our team was able to provide live, professional captioning service on the outboard screens throughout the General Session for each presenter.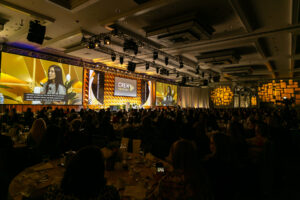 The Large Scale Breakouts were also very important. Quick room turns make any meeting planner nervous, but our team remained calm and poised and kicked off each meeting flawlessly.
Conclusion
Our partnership with CREW Network is sure to grow stronger. This event is a great example of how our superb production services extend beyond the live show, but with attention to detail and care during the planning and post event phase. We are excited for what the future holds and look forward to a bright one with CREW Network.
Services Provided:
Pre-Production, Production Management, Lighting, Audio, Video, Camera Recording, Graphics, Closed Captioning, Breakouts