Operations Manager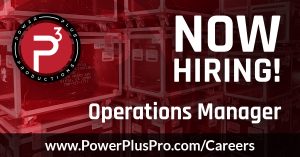 Role Description
The Operations Manager is responsible for the day-to-day workflow of the event production warehouse, scheduling and overseeing department managers and team members, ensuring that equipment orders and shows are pulled and staged in a timely manner and ready for shipping or pick up. This position will oversee the return of the equipment from events, making sure it is properly checked in, QC'd, and made available for its next use. The OM will train new team members and maintain a safe and positive work environment for all the full, part time, and freelance staff.
Responsibilities
Schedule and assign warehouse labor as dictated by business levels
Manage workflow in the warehouse to ensure all orders are ready for delivery or pick up
Coordinate the loading and unloading of trucks
Coordinate the delivery and pick up of equipment and schedule drivers for local events
Manage and maintain equipment inventory
Manage local outbound cross rental requests, including quotes, pull sheets, and returns
Cultivate relationships with and be a liaison to local meeting planners and vendors
Act as a Sales Manager and/or Project Manager for events when assigned
Manage outbound and inbound UPS/FEDEX/etc. shipping and receiving
Maintain vehicle maintenance and fuel records, informing management of when vehicles are due for service, scheduling service around peak activity
Maintain vehicle travel and mileage records/logbooks for in California and out of state travels
Assist with obtaining and completing required form(s) for local and out of state vehicle permits
Assist with recruitment and interviewing of prospective employees
Advise when items need to be serviced or replaced and remove questionable items from circulation
Manage the selling and/or removal of outdated equipment
Act for the Director of Operations in their absence to ensure a smooth-running organization and compliance with established Company policies and procedures
Skill Requirements
On-site production experience with setting, operation, and striking events
Computer literacy and proficiency in MS Office Suite (Word, Excel and Power Point)
Excellent written, communication and time management skills
Ability to read and interpret documents such as CAD Drawing, safety rules, operating and maintenance instructions, and procedure manuals
Ability to work calmly under pressure in a fast-paced environment
Ability to work with limited supervision and provide a respectful and positive work environment
Planning, organization, and problem solving
Technical communication, project management, and organization skills
Interpersonal skills such as professionalism, customer relations, and diplomacy
Eligibility Requirements
High School Diploma or GED minimum, Bachelor's degree preferred.
Minimum 5 years of experience in audiovisual and warehouse management
Minimum 5 years of audio-visual event production experience, minimum 2 years in management
On-site production experience with setting, operation, and striking events
Must be willing to work in Vista, CA or Salt Lake City, UT
Ability to operate scissor lift and forklift preferred
Must provide acceptable documents that establish both identity and employment authorization.
As a condition of employment, newly hired employees will be required to provide proof of their COVID-19 vaccination.
Physical Requirements
Must be able to lift, carry, move, and place up to 50 pounds as needed
Ability to assist with loading and unloading equipment into trucks
Travel Requirements
Up to 25%
Salary & Benefits
Full-time/Part-time
Paid vacation
Medical
Dental
Vision
Life insurance
401k program
Job Location
Opening available in:
Vista, CA
Salt Lake City, UT
Required Language
English