Logistics Manager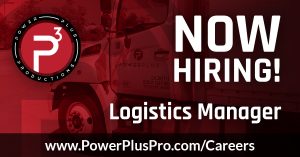 Role Description
The Logistics Manager will oversee and manage the operations of the rental warehouse, this includes the supply chain processes and product delivery by tracking and reviewing invoices, shipment status, and delivery route activity.
Responsibilities
Collects, interprets, and analyzes various types of logistics data including availability of equipment items, reliability of transport and delivery, and other data related to product supply chain management, sourcing, and distribution
Maintains database(s) of logistics information.
Tracks equipment rental items flow from origin to delivery via web-based logistics systems (Flex) and other appropriate methods of monitoring inventory and procuring sub-rentals and other equipment as necessary
Reviews logistics processes and procedures; identifies, recommends, and implements improvements to maximize delivery efficiency while minimizing costs.
Reviews and analyzes transportation costs, parts procurement and delivery processes, inventory issues such as back orders, and other fulfillment metrics.
Uses analytic methods and tools to understand, predict, and/or control logistics operations and processes including but limited to managing labor schedules
Monitors warehouse facilities to evaluate inventory transactions such as receiving, storage, shipping, and inventory integrity.
Performs other related duties, as assigned.
Identifies problems and inefficiencies in logistics processes; presents and implements enhancements and solutions to address these issues.
Manage company DOT requirements and compliance, maintain & service all trucks and trailers
Skill Requirements
Extensive knowledge of shipping and distribution channels
Excellent analytical and problem-solving skills
Excellent written and verbal communication skills
Proficient with Microsoft Office Suite or similar software
Knowledge and experience with Flex is preferred
Eligibility Requirements
Previous experience in logistics field required.
Prolonged periods sitting at a desk and working on a computer.
Must be able to lift a minimum 15 pounds at a time.
Must provide acceptable documents that establish both identity and employment authorization.
As a condition of employment, newly hired employees will be required to provide proof of their COVID-19 vaccination.

Travel Requirements
Up to 25%
Salary & Benefits
Full-time
Paid vacation
Medical
Dental
Vision
Life insurance
401k program
Job Location
Opening available in:
Required Language
English