AV Warehouse Support Technician – Vista, CA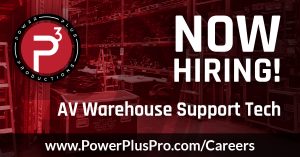 Role Description
The AV Warehouse Support Technician is responsible for managing inventory and maintaining the status of all audio-visual equipment. Duties include fulfilling equipment pull lists and return lists, and assisting with loading and unloading trucks. This individual will ensure proper check-in and check-out of all equipment, organize warehouse storage, and identify necessary repairs or replacements. The ideal candidate will have experience within the live events industry and be familiar with inventory tracking software. A basic knowledge of audio, video, stage lighting, and LED video walls is preferred.
Responsibilities
Work with Operations Manager and department managers to ensure all equipment pulls, packaging and labeling are accurate and in accordance with the pull sheets
Correctly pull, scan out, label, and prep equipment and accessories and complete in a timely manner in accordance with the scheduled shipping arrangements
Ensure all rental equipment is returned from show site
Follow procedures pertaining to preventative equipment loss measures
Maintain and QC/service equipment as necessary, providing service logs and schedules
Assist with the loading/unloading of trucks in the warehouse and on show site
Maintain an organized, clean, and neat warehouse environment
Installation and operation of audio-visual equipment for shows as needed
Assume additional duties as needed
Skill Requirements
Familiarity with audio/visual equipment
A strong attention to detail
Ability to work cooperatively with team members and other departments
Ability to multi-task and be proactive
Ability to work in a fast-paced environment with limited supervision
Ability to read and interpret documents such as safety rules, operating and maintenance instructions and procedure manuals.
Experience with barcoding, RFID, and inventory control software (FLEX) a plus
Experience operating a forklift and materials handling equipment a plus
Physical Requirements
Must be able to lift, carry, move, and place up to 50 pounds as needed
Must be able to stand for extended periods of time
Ability to assist with loading and unloading equipment into trucks
Eligibility Requirements
Interested candidate must submit a resume or CV through www.PowerPlusPro.com
Additional education and/or knowledge in audio, video, lighting, and IT systems a plus
Ability to work varied shifts, including weekends and holidays
Ability to read and interpret documents such as safety rules, operating and maintenance instructions and procedure manuals
Must be at least 18 years of age
High School Diploma or GED
Ability to operate forklift and scissor lift a plus
Experience driving trucks up to 24' long a plus
Available to travel as required
Must provide acceptable documents that establish both identity and employment authorization.
As a condition of employment, newly hired employees will be required to provide proof of their COVID-19 vaccination.
Travel Requirements
Up to 25%
Salary & Benefits
Starting at $18/hr based on experience – Full-Time
Paid vacation
Medical
Dental
Vision
Life insurance
401k program
Job Location
Openings available in:
Vista, CA
Salt Lake City, UT
Required Language
English